Commercial accommodation
Commercial accommodation places in Suomussalmi and in Kainuu region.
SUOMUSSALMI

Kangasjoki camping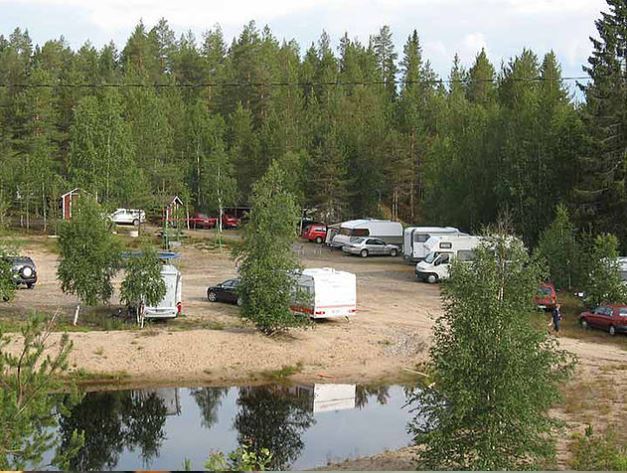 Accommodation in the campsite and cottages right on the Viitostie road and close to the services of Suomussalmi.
Contact:
Viitostie 136, 89600 Suomussalmi
+358 41 437 5952
info@kangasjoki.fi
Web page: www.leirintaalueet.fi/kangasjoenleirinta
Guest House Karelia
Accommodation in double rooms at the end of Raatteentie, near the border zone. The property also serves a lunch-café and a little shop, and you can find souvenirs, food and local handicrafts.
Contact:
Raatteentie 183, 89800 Suomussalmi
marjaelisa.valimaki@gmail.com
+358 40 190 7073
Web page: www.suomussalmi.fi/fi/matkailu/majoitu/muu-majoitus/guest-house-karelia/
Kurimon Majatalo (Kurimo guesthouse)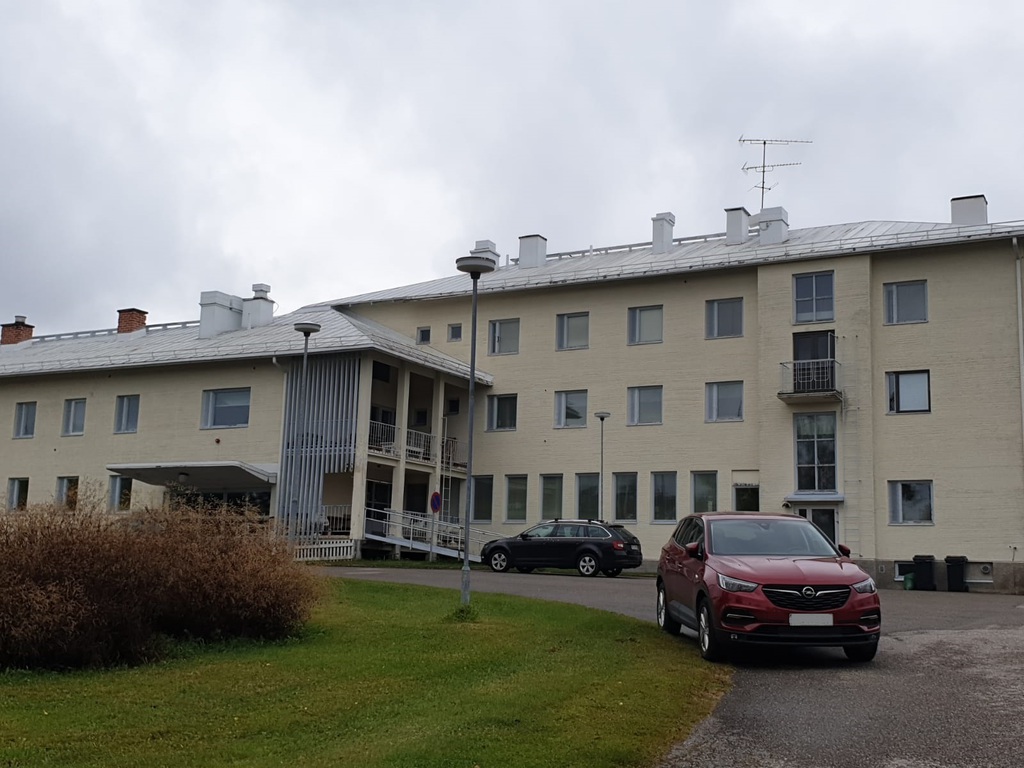 The peaceful coutryside offers dormitory accommodation, camping accommodation and tent accommodation.

Dormitory accommodation is available in douple, triple, quadruple, 6-bed rooms and one 12-bed apartment. See more details on dormitory accommodation here.

Caravan accommodation and tent accommodation. See more details here.

Pictures of the property can be found on the other accommodation website.

Prices:
- Dormitory accommodation 35 €/person/day
- Camper/caravan electric place 25 €/day
- Camper/caravan place without electricity 20 €/day
- Tent place 10 €/person/day
- Laundry 5 €/one time
- Sauna 5 €/person or 10 €/family
Meals:
It is possible to pre-book breakfast, soup and evening snack meal from the Kurimo Majatalo, payment on the spot.
Meals prices and timetables:
- Breakfast 7 €/person - available from 7.00-9.00
- Evening snack 7 €/person - available from 19.30-21.00
- Soup food 10 €/person - available Sun 4.7. from 16.00-18.00, Mon-Wed 5.-8.7. from 15.00-18.00
Dining options are also available at the on-site tilausravintola Vanha Kurimo, an on-site restaurant 90 m away.
Contact:
Kurimontie 39 A, 89600 Suomussalmi
By phone after 5pm: Tarja +358 40 582 7855 and Anssi +358 44 994 3845
kurimonmajatalo@gmail.com

Facebook: Kurimon majatalo
Sakaran school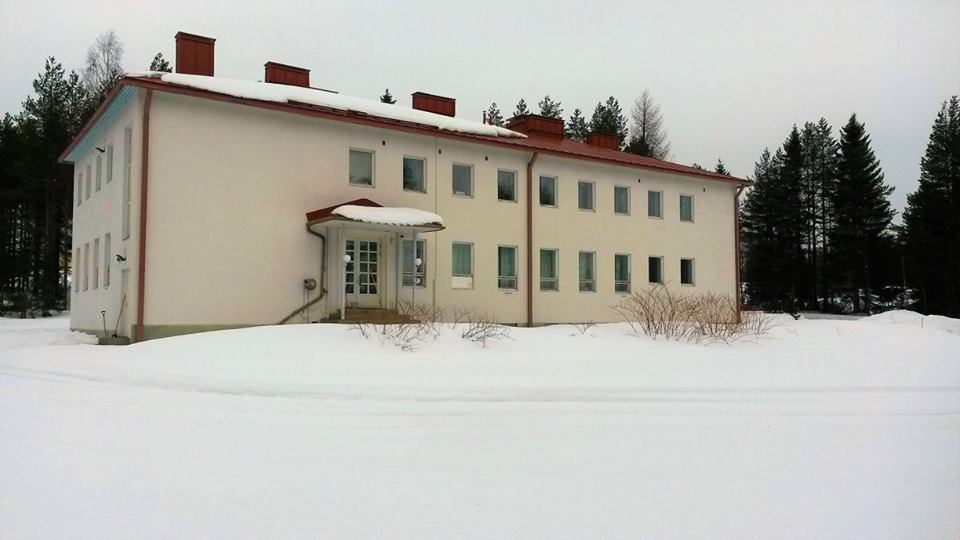 The former school has accommodation for 75 people. The property is officially approved for accommodation use.
Facilities: 3 apartments, all with kitchen. Accommodation in rooms for 2-16 people.
Sauna, drying room, showers and toilets. New courtyard kitchen and inside kitchen facilities that can accommodate even a larger group to dine.
There is an internet connection in the destination.
Pictures of the accommodation can be found here.
Price: 27,50 €/person/day
The price includes bed linen. Towels must be brought by the customer.
Contact:
Ritamaantie 20, 89600 Suomussalmi
+358 44 099 6431
veikka.juntunen@gmail.com
Kiannan kelkka- ja kalaetappi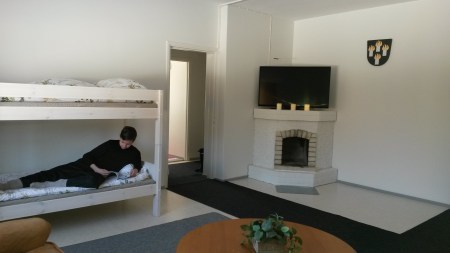 The property is located by the lake. There is a hut on the beach.
There is a pool table, home karaoke equipment and a hunting simulator.
Contact:
Kiannanniemi, 89740 Suomussalmi
+358 44 099 6431
veikka.juntunen@gmail.com
Web page: www.kiannankelkkajakalaetappi.com
Ämmänsaaren työväentalo (Ämmänsaari community hall)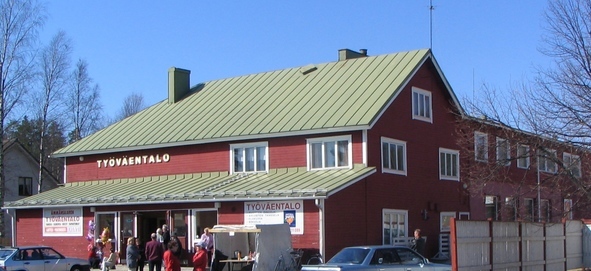 Community hall is located in the Suomussalmi municipal center, in almost the same yard you will find the S-market and other services within walking distance.

On the second floor of the community hall accommodation in 4 rooms. On the same floor you will find a toilet and a kitchenette, which are shared by the guests. The kitchen is equipped with utensils, a stove / oven, a refrigerator and a sink. The first floor of the building has public toilets for men and women and a spacious shower and sauna.

Linen and towels are provided.
Prices:
- Large room for 4 people 120 € / day
- Two double rooms 80 € / day / room
- Single room 80 € / day

Note. Dances of the Cross Week will be held on the ground floor of the workers' house on 1 July. at 8pm, the dances carry some music sound to the upstairs rooms.
Contact:
Voimakatu 5, 89600 Suomussalmi
+358 50 552 8174
t.huttujuntunen@gmail.com
Mökkikylä Ryysyranta (Cottage village Ryysyranta)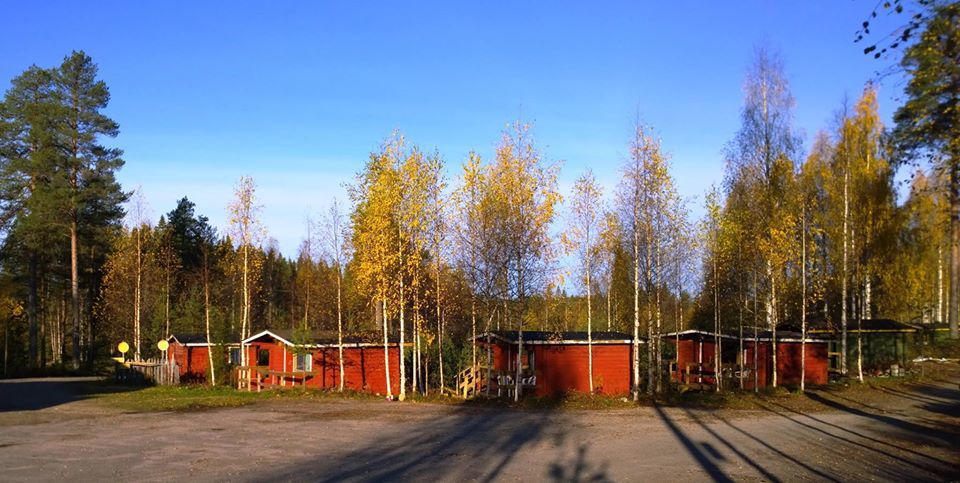 Cottage accommodation right on the road 5. In the area you will find laundry and cooking facilities.

Accommodation:
- in camping cabins for 2-6 people (beds and fridge)
- cottage for 10 people with private kitchen
- 2 apartments with private shower and washroom.
Contact:
Viitostie 326, 89600 Suomussalmi
Pentti +358 40 531 7042, Annaliisa +358 40 531 7032
annaliisa.tapaninen@gmail.com, pentti.tapaninen@gmail.com
Facebook: Nature Action Centre, NAC Oy, Ryysyranta
Hossa Visitor Centre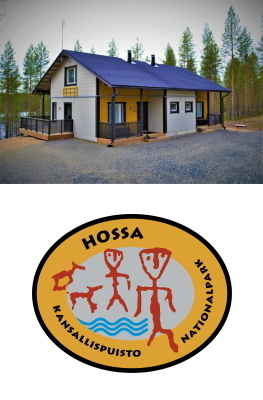 Accommodation in the silence and peace of the nature - Hossa Visitor Centre
Hossa Visitor Centre offers a diverse range of excursion and travel services. The restaurant/café serves small snacks and full meals and knowledge of nature and history of
Hossa region is provided under the same roof.
Cottages and loggers' huts provide cosy overnight accommodation throughout the year. The campsite of Karhunkainalo is open to caravanners from March to October.
From the Visitor Centre you can rent for ex. fatbikes, canoes, kayaks etc.
Check out accommodation possibilities from
here
.
Contact:
Hossa Visitor Centre
Jatkonsalmentie 6, 89920 Suomussalmi
+358 (0)50 384 4692
hossa@retkeilykeskus.fi
Web page:
https://www.luontoon.fi/hossanluontokeskus
PUOLANKA
Accommodations in the vicinity of the municipality of Puolanka can be viewed here
Puolangan Majoitus- ja caravankeskus
KONTIOMÄKI (PALTAMO)
Kontion Tallit avoin yhtiö

Camp Puikkokoski
PALTAMO
Kainuun Opisto

Paltamon Sydän
Oulujärven Kultapallo-lomat
KAJAANI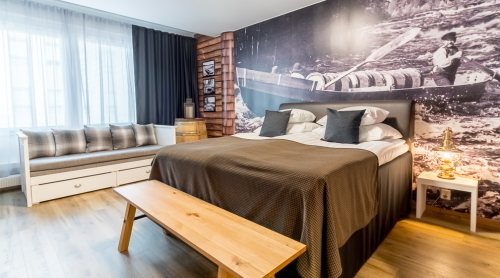 Original Sokos Hotel Valjus
Booking phone +358 010 783 2000

Sokos Hotel Valjus

Scandic Kajanus

Kirkkoahon kylätalo/Kirkkoahon seudun kyläyhdistys ry

Rauhan Majatalo

Impilinna

Kartanohotelli Karolineburg

Lomakoti Koivuranta

Kesäkoti Invala

Onnelan Matkailumaatila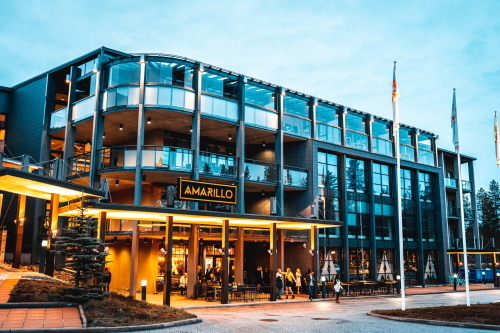 Break Sokos Hotel Vuokatti
Booking phone +358 010 783 1000
Sokos Hotels | Vuokatti | hotelli, hotellit | huonevaraus | hotellitarjous | kokous | hiihto - sokoshotels.fi

Holiday Club Katinkulta

Jaakkolan lomamökit

Hotelli Tulikettu

Vuokatin Aateli

Vaaran loma-asunnot

Hotelli Vuokatti & Suites

Pitkäniemen Lomamökit

Vuokatti Travel

Kolazko Apartments

Vuokatticotttage

Vuokatinmaa Loma-asunnot

Loma-Perkkiö

Pikkujormanen

KaisanKulma

Naapurivaaran Lomakeskus

Laahtasen leirintä- ja lomakylä

Loma Rinteelä

Niemelän lomamökit

Vuokatinranta

Kylätalo Heinis

Maanselän etappi
KUHMO
Kuhmon kaupunki

VisitKuhmo

Hotelli Kainuu

Hotelli Kalevala

Hyvinvointi Sampo

Kalevala Experience

Matkakoti Parkki

Matkustajakoti Uljaska

Tulijärven Tuvat

Lentiiran lomakylä

Kalevalanranta.com

Boreal Wild Brown Bear

Lentuvat

Myllylän Torppa

Taiga Spirit

Kiekinkosken Lomamökit

Saunajärven Lomamökit

Wanhan Majurin Majatalo

Lomarengas Oy

Lentuankosken leirintäalue-camping

Myllyniemi Caravan

Pykälä

Salmelan mökit