KAINUU ORIENTEERING WEEK 2023
Arriving to Finland, Kainuu and Kuhmo
Arriving to Kuhmo is quite easy and flexible.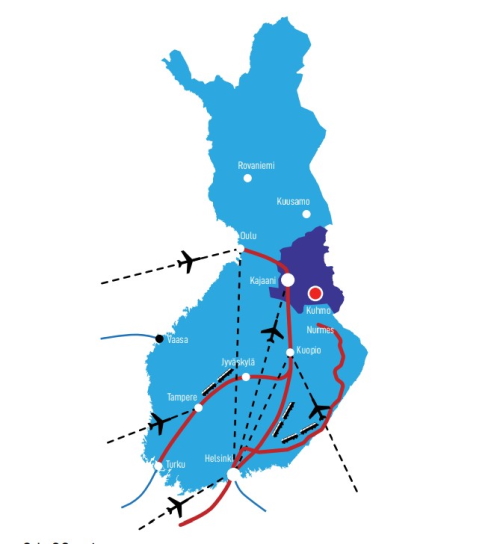 To arrive Kainuu O-Week 2023 we recommend the following:
1. Book flights from the departure country to Helsinki (Helsinki airport)
2a. Book flights from Helsinki airport to the Kajaani airport or the Oulu airport or the Kuopio airport and rent a car from the airport to drive to Kuhmo.
or
2b. Rent a car from the Helsinki-Vantaa and drive from Helsinki to Kuhmo. It is about 660 km and 7-8 hours driving from Helsinki to Kuhmo.
3. From Kajaani airport to Kuhmo
- 1 h 20 min driving to the Kuhmo city centre
- 1 h 30 min driving to the Competition Centre (Jämäsjärventie 1024, Kuhmo)
- By car (rent a car from the airport)
- By taxi
4. Competition bus
- From the Event Centre (Kuhmo city) you can have a competition bus transportation on each competition day to the Competition Centre and back to Event Centre. See more from rastiviikko.fi -> 2023 -> Spectators -> Event Centre and Competition Centre.
If you have any questions contact us directly:
info@rastiviikko.fi
+358 44 512 3517
By air:
Helsinki → Kajaani
Helsinki → Kuopio
Helsinki → Oulu
Helsinki → Kuusamo
Helsinki → Rovaniemi
By rail:
By bus:
Daily bus connections are available from the Kajaani (also Kajaani airport) to Kuhmo. 
The summer 2023 timetables will be confirmed in March-April, when the schedules of rail and flight connections etc. have been confirmed. Preliminary timetables (that give direction) can be viewed directly on the website of the main operator (A. Kyllönen).
www.akyllonen.fi
www.matkahuolto.fi
www.matka.fi
By car:
Distances and estimated driving times by car to Kuhmo:
From Turku 660 km 7 h 50 min
From Helsinki 595 km 6 h 50 min
From Tampere 500 km 6 h 00 min
From Vaasa 470 km 5 h 45 min
From Rovaniemi 390 km 5 h 00 min
From Jyväskylä 350 km 4 h 15 min
From Kuusamo 260 km 3 h 20 min
From Oulu 260 km 3 h 20 min
From Kuopio 205 km 2 h 30 min
From Kajaani 105 km 1 h 20 min
From Nurmes 80 km 1 h 00 min
From Vuokatti 70 km 55 min
Car rental:
Helsinki (airport)
Kuopio (airport)
Kajaani (airport)
Oulu (airport)
Rovaniemi (airport)