Travel and arrive smoothly to Kainuu Orienteering Week in Kajaani - by air, rail, bus or car
Published: 17.11.2023
With these tips, arriving at Kainuu O Week 2024 will be easy and getting around the Kajaani area will be handy. Read this article for more detailed information on travelling to the orienteering week, so that you can focus on the most important - orienteering and holiday.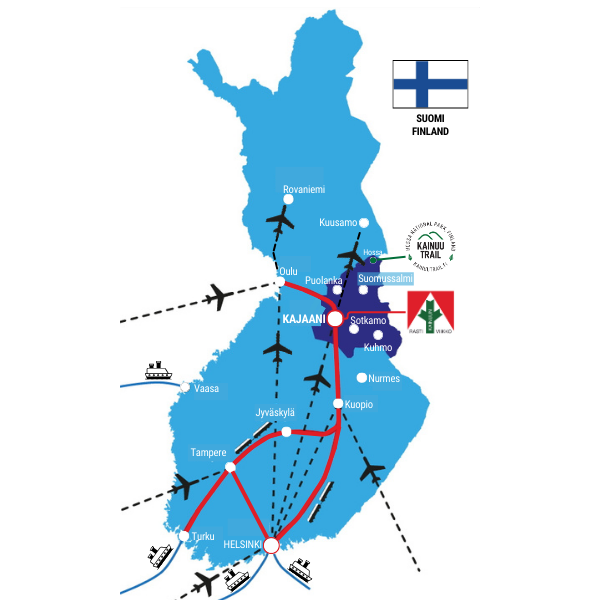 You can arrive to Kajaani by air, rail, bus or by car. See the arrival instructions from our website.
In Kajaani, we recommend to use the public transport provided by the organizers, such as the KOW competition bus and the non-stop bus transport from the Competition Centre's parking areas: These will get you right to the heart of the Competition Centre conveniently and cheaply, and at the same time nature will thank you for being a responsible traveller.
With the Competition Bus, you can travel conveniently from the KOW's dormitory accommodation (Oppi 4, Kajaani) to city centre of Kajaani through the Kainuu O Week Event Centre (Aquatics Centre Kaukavesi) to the Joutenlampi Competition Centre and back during each of the four stages. See from our website the routes, timetables and rates. For example, for an adult a bus ticket for the whole week costs 20 Euros (5 € / day) and for kids under 15 years only 10 Euros.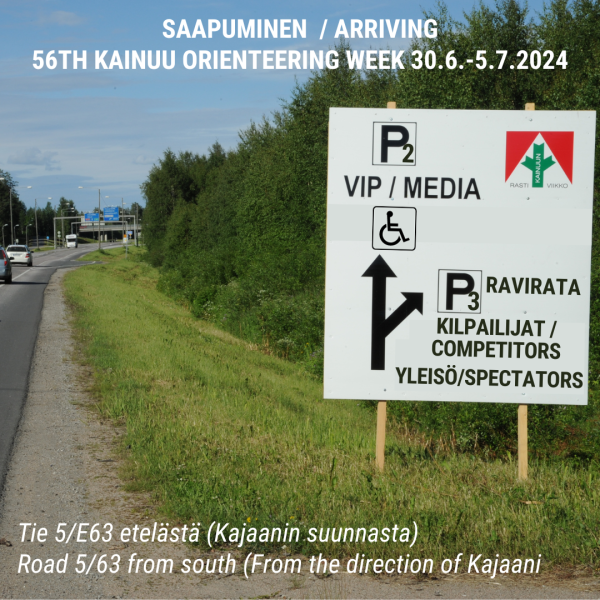 If you arrive at the Competition Centre by car, we recommend parking in the P3 Kainuu Horse Race Centre parking area, from where you can conveniently get to and from the Competition Centre with our non-stop bus transportation. We have also reserved a limited number of VIP parking spaces right next to the Competition Centre (P2 area) as well as a separate parking area for people with reduced mobility (P1 area). Regarding the P2 area, it should be noted that we are only allowed to take personal vehicles up to two (2) meters high into the area. Parking for higher vans and campervans is only possible in the P3 speedway area. Unfortunately, it is not possible to arrive at the parking areas with caravan combinations, so we recommend our competition bus transportation for these participants. See parking areas and P ticket prices on our website.
We recommend to purchase bus and parking tickets beforehand from our KOW webshop and travelling on-site in Kajaani will be even easier.
If you have any questions about arriving to Kainuu Orienteering Week or travelling around on-site or in Finland and Kainuu, please contact info@rastiviikko.fi, +358 44 512 3417